What's a Wellness Wheel?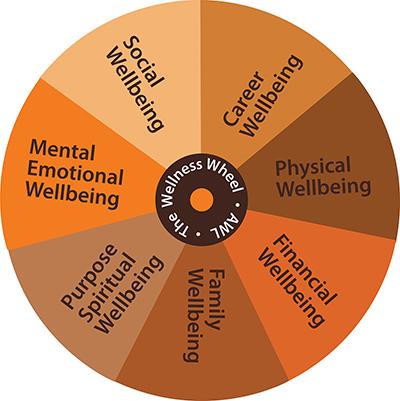 According to the World Health Organization, health in a broader sense is defined as a "state of complete physical, mental, and social well-being and not merely the absence of disease or infirmity."
At Advanced Wellness Chiropractic, we believe that emotions such as anger, sadness, hurt, shame, guilt, resentment or rage, can come from one of the seven spheres of a wellness wheel. They are:
Physical
Mental
Vocational
Financial
Familial
Social
Spiritual or Purpose
How we rate our well-being in each of these spheres can strongly impact our health and how we feel physically.
It is common and easy to understand the aches and pains in our body when we have had a physical injury such as a fall. We often don't understand how strong emotions can influence our physical presentation, specifically eliciting a stress response.
Any stress response, be it from a physical fall or strong emotion, impacts the central nervous system in the same way. If the stress response does not dissipate, we can remain stuck in that response. Such a stuck reaction affects the function of the nervous system, spinal cord and spine. Over time, that response can lead to aches and pains or poor health.
The Path to Better Health
Improving your aches and pain and health becomes a twofold project. First, we must deal with the tension and pressure placed on the spinal cord from all the past stuck stress responses. At Advanced Wellness Chiropractic, we use the Torque Release Technique that gently but effectively releases the spinal cord of tension allowing you to feel better.
Second, we look at the environment to see how we can lessen any unnecessary stresses. We can all learn to move, sit and stand better with proper exercises. We can make healthier food choices every meal. Reducing the stress from our emotional environment is trickier! First, we must identify which sphere or spheres are the source of the stress and then take action to tackle that pressure.
Achieve Optimal Wellness
At Advanced Wellness Chiropractic, we've designed Wellness Wheel Wednesday and The Wellness Wheel Project Event. Both help individuals discover which sphere is the source of most of their unnecessary stress and provide tips, tools and wisdom to inspire individuals to take the necessary action to change their environment.
Every Wednesday Dr. Vera hosts a different expert from one of the spheres from the Wellness Wheel. These interviews are done live on Facebook starting at 1 p.m. Dr. Vera asks her expert guests to share tips and tools one can use to lessen the stress. Join us live this Wednesday!
Every year, we hold The Wellness Wheel Project Event to further help attendees address areas of their health. We have scheduled our event for the fall. Stay tuned here for details and tickets.
Take a proactive approach to your health by booking an appointment! If you are a speaker and believe you have a product, service or idea that fits with one of the Wellness Wheel Spheres, contact us today.
CONTACT US »

Wellness Wheel Workshop Edmonton | (780) 705-3111