What to Expect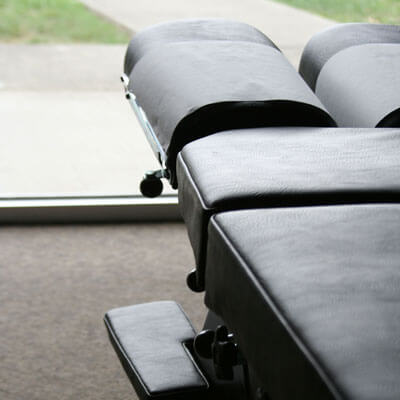 We're thrilled you're considering partnering with us to bring your team the health and happiness they deserve in the workplace.
Here's a bit more on what you can expect the process to be like.
Convenient, No Cost Care
When you invite us into your workplace for care, we'll set up an adjustment table in a private area to keep employees relaxed and comfortable. We can be there for as little or as long as you'd like—our flexibility is open to your needs. We typically recommend a few hours minimum to ensure everyone can receive the care they need, when they need it.
Then, employees are free to visit us as they need. They can also set up appointments in advance, as well as schedule follow up visits. Our system is entirely online and paperless, making everything simple and convenient for all. We'll handle insurance billing on your employee's behalf—remember, there is no cost to the organization for having us out.
From the time an employee stands up from their desk to visit us to the moment they return takes only 15 minutes—the adjustment process is smooth and relaxing. The ultimate goal is to help reduce their pain so they can return to work immediately and maintain productivity.
Lunch n' Learns
We're proud to offer monthly Lunch n' Learn sessions for our clients in order to help employees stay on a path of wellness. We'll bring lunch and Dr. Vera will go over an exciting health topic that can benefit everyone. This is often a great way to introduce your employees to natural health care if they've never visited a chiropractor or may be nervous.
Incredible Benefits for All
We've worked with organizations just like yours in the past, and we're proud to say that employees and employers experience incredible benefits from chiropractic care including:
| | |
| --- | --- |
| Employer Benefits | Employee Benefits |
| Reduced absenteeism | Improved awareness of better health |
| Less Worker's Comp claims | Take back power and control of health |
| Increased employee morale | Reduces suffering and discomfort |
| Decreased presenteeism | Improved natural wellness |
| Improved productivity | Increased job satisfaction |
| Increased retention | Healthier workplace culture |
| Enhanced recruiting potential | Increased productivity |
| Improved sustainability and profitability | Reduced personal health care expenses |
Ready to Learn More?
Dr. Vera would love to visit your practice to learn more about how we can work together to improve your employee morale, wellness and overall bottom line.
Get started today by booking an appointment with her.
CONTACT US »
---
What to Expect | (780) 705-3111